NOW That's What I Call A Massive 80s Party Torrent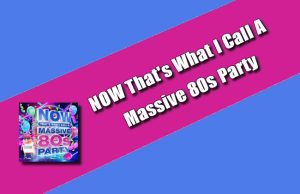 NOW That's What I Call A Massive 80s Party Torrent – En commençant par l'hymne classique de bien-être « Wake Me Up Before You Go-Go » de Wham ! et continue avec une série de certains des succès les plus mémorables de la décennie de Kenny Loggins avec «Footloose», l'énorme numéro un «Uptown Girl» de Billy Joel et le triomphal «I'm Still Standing» d'Elton John. Poursuivons avec une sélection de chansons de certaines des plus grandes voix féminines de la décennie, notamment Whitney Houston, Dolly Parton, Chaka Khan, Irene Cara et Olivia Newton-John. Vient ensuite une série de succès des producteurs Stock, Aitken et Waterman, y compris des succès de Kylie Minogue, Jason Donovan, Rick Astley, Bananarama, Mel & Kim et Dead Or Alive. Le disque est complété par Pop Gold de The Bangles, Kim Wilde, Matthew Wilder, et se termine par l'épopée « If I Could Turn Back Time » de Cher.
Le disque 2 démarre avec le top des charts des Communards « Don't Leave Me This Way » avant une série de numéros un massifs de Frankie Goes To Hollywood, Duran Duran, Soft Cell, The Human League, Culture Club et l'incontournable du parti « Come Sur Eileen' de Dexys Midnight Runners. Les tubes soul et dance de KC & The Sunshine Band, Billy Ocean et The Four Tops sont inclus avant de terminer ce disque avec le numéro un « Happy Talk » de Captain Sensible.
Info :
Artist: Various
Album: NOW That's What I Call A Massive 80s Party
Year: 2022
Genre: Pop, Rock, R&B, Dance
Total Tracks: 86
Total Size: 768 MB
Quality: Mp3 320 kbps
Tracklist:
Disc: 1
01. Wham! – Wake Me Up Before You Go-Go
02. Kenny Loggins – Footloose
03. Billy Joel – Uptown Girl
04. Elton John – I'm Still Standing
05. Dolly Parton – 9 to 5
06. Whitney Houston – I Wanna Dance with Somebody (Who Loves Me)
07. Irene Cara – Flashdance…What a Feeling
08. Chaka Khan – I Feel for You
09. Freeez – I.O.U.
10. Shannon – Let the Music Play
11. Inner City – Big Fun
12. Dead Or Alive – You Spin Me Round (Like a Record)
13. Mel & Kim – Respectable
14. Kylie Minogue – I Should Be So Lucky
15. Rick Astley – Never Gonna Give You Up
16. Jason Donovan – Too Many Broken Hearts
17. Bananarama – Venus
18. The Bangles – Walk Like an Egyptian
19. Matthew Wilder – Break My Stride
20. Olivia Newton-John – Physical
21. Kim Wilde – You Came
22. Cher – If I Could Turn Back Time
Disc: 2
01. The Communards, Sarah Jane Morris – Don't Leave Me This Way
02. Yazz & The Plastic Population – The Only Way Is Up
03. Frankie Goes To Hollywood – Relax
04. Duran Duran – The Reflex
05. a-ha – Take on Me
06. Soft Cell – Tainted Love
07. The Human League – Don't You Want Me
08. Heaven 17 – Temptation
09. Culture Club – Karma Chameleon
10. Dexys Midnight Runners – Come On Eileen
11. The Bluebells – Young at Heart
12. Jo Boxers – Boxerbeat
13. The Jam – Town Called Malice
14. Madness – House of Fun
15. Tiffany – I Think We're Alone Now
16. Owen Paul – My Favourite Waste of Time
17. Nik Kershaw – I Won't Let The Sun Go Down On Me
18. KC & The Sunshine Band – Give It Up
19. Billy Ocean – Get Outta My Dreams, Get Into My Car
20. Four Tops – Loco in Acapulco
21. Captain Sensible – Happy Talk
Disc: 3
01. Meat Loaf – Dead Ringer for Love (with Cher)
02. Beastie Boys – (You Gotta) Fight for Your Right (To Party)
03. Iggy Pop – Real Wild Child (Wild One)
04. Electric Light Orchestra – Hold On Tight
05. Europe – The Final Countdown
06. Kiss – Crazy Crazy Nights
07. ZZ Top – Sharp Dressed Man
08. Tina Turner – The Best
09. Blondie – Call Me
10. Michael Sembello – Maniac
11. Miami Sound Machine – Dr. Beat
12. Aneka – Japanese Boy
13. Baltimora – Tarzan Boy
14. Damian – The Time Warp
15. Sinitta – So Macho
16. Hazell Dean – Searchin' (I Gotta Find a Man)
17. The Kids From « Fame » – Hi-Fidelity
18. Tight Fit – Fantasy Island
19. Stars On 45/Starbound – More Stars (ABBA Medley)/Stars On 45 Vol. 2
20. Shakin' Stevens – Green Door
21. UB40 – Red Red Wine
Disc: 4
01. Lionel Richie – All Night Long (All Night)
02. Shalamar – A Night To Remember
03. Kool & The Gang – Celebration
04. The Gap Band – I Don't Believe You Want To Get Up And Dance (Oops, Up Side Your Head)
05. Odyssey – Use It Up and Wear It Out
06. Diana Ross – I'm Coming Out
07. The Pointer Sisters – Jump (For My Love)
08. The Weather Girls – It's Raining Men
09. Kelly Marie – Feels Like I'm in Love
10. Liquid Gold – Dance Yourself Dizzy
11. The Nolans – I'm in the Mood for Dancing
12. Bucks Fizz – Making Your Mind Up
13. Tight Fit – The Lion Sleeps Tonight
14. Modern Romance – Best Years of Our Lives
15. Los Lobos – La Bamba
16. Bad Manners – Can Can
17. The Tweets – Birdie Song
18. D.J.In The Night – Star Trekkin'
19. Status Quo – Marguerita Time
20. Ray Parker, Jr. – Ghostbusters
21. Deniece Williams – Let's Hear It for the Boy
22. Bill Medley, Jennifer Warnes – (I've Had) The Time of My Life