AOMEI Partition Assistant 8.3 Torrent
AOMEI Partition Assistant 8.3 Torrent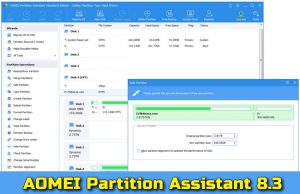 AOMEI Partition Assistant 8.3 Torrent est un outil qui intègre un grand nombre de fonctionnalités vous permettantde gérer vos disques durs et partitions. A l'aide des nombreux outils et assistants, vous serez ainsi en mesure de modifier les paramètres de vos partitions.
Dans le but de gérer l'espace disque et les performances de votre système, vous pourrez effectuer de nombreuses actions sur chacune de vos partitions : création, redimensionnement, copie, division, formatage ou encore suppression de partitions sont notamment au menu. Il vous sera aussi possible de vérifier une partition à la recherche d'erreurs que vous pourrez alors corriger.
Le logiciel propose également des outils pour vos disques durs. La copie dedisques, la suppression de toutes les partitions ou encore le test de surface sont intégrés. Vous disposerez d'assistants qui vous guideront pas à pas afin de copier vos disques ou vos partitions, de convertir vos partitions NTFS en FAT32 ou MBR en GPT et vice-versa ou encore de copier votre système d'exploitation vers un disque SSD. En outre, la récupération de partitions est disponible.
AOMEI Partition Assistant bénéficie d'une interface simple à utiliser et intuitive : vos disques sont affichés à droite et les outils à gauche. De même les nombreuses fonctionnalités vous permettront d'effectuer la maintenance et la gestion de vos disques et partitions en un clin d'œil.
Changelog de la AOMEI Partition Assistant Version 8.3 2019 :
Optimized task list pane.
Optimized the interaction pattern in a restart mode.
Added: HOVER effect on disk list and disk panel.
De même Added: Ring display for disk and partition capacity.
Info Sur Le Torrent AOMEI Partition Assistant 8.3 Pro Tech Server Unlimited
Éditeur : AOMEI Tech Co.
Système d'exploitation : Windows XP/7/8/8.1/10
Version du logiciel : 8.3
Architecture : 32-Bits & 64-Bits
Fichiers inclus : fichier licence + Professional, Server, Technician et Unlimited
Langue : Multi et Fr
installation :
1. Désactiver votre connexion internet
2. Lancer Setup
3. Installer AOMEI Partition Assistant
4. Décocher "Exécuter le programme" et " Participer à l'expérience utilisateur"
5. Choisisez votre édition AOMEI , puis copier et remplacer le fichier cfg vers le dossier d'installation
C:\Program Files (x86)\AOMEI Partition Assistant
6. Activer ou mettre en route votre connexion internet
7. Lancer le logiciel