Jeux PSP Pack Torrent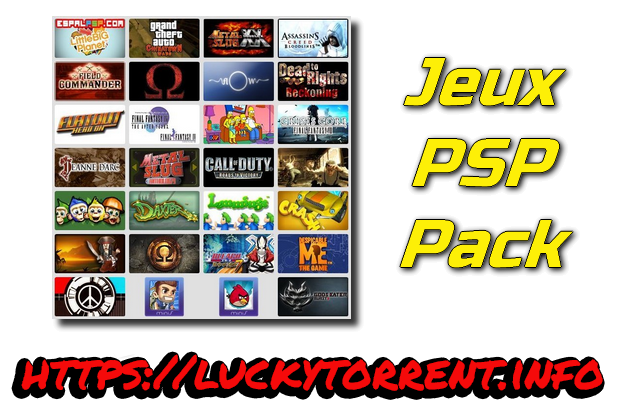 Jeux PSP Pack Torrent pack de jeux présents pour psp que vous pouvez installer et utiliser sur un smartphone a l'aide d'un Emulateur voila un lien PPSSPP Gold Emulateur PSP Torrent Apk .
Voici la liste des jeux présents dans ce pack :
Angry Birds (US),,Assassin's Creed Bloodlines (EU),Bleach Heat the Soul 7 (JP),Call of Duty Roads to Victory (EU),Carol Vorderman's Sudoku (EU),Crash Tag Team Racing (EU),Crisis Core Final Fantasy VII (EU),Crystal Defenders (EU) ,Daxter (EU),Dead to Rights Reckoning (US),Despicable Me (US),Field Commander (EU),Final Fantasy IV Complete Collection (JP),FlatOut Head On (EU),flOw (US),God of War Chains of Olympus (EU),God of War Ghost of Sparta (EU,Gods Eater Burst (US),Gradius Collection (US),Grand Theft Auto Chinatown Wars (US),Grand Theft Auto Vice City Stories (EU),Hatsune Miku Project Diva 2nd (JP) ,Jeanne d'Arc (US) ,Jetpack Joyride (EU) ,Jungle Party (EU) ,LEGO Pirates of the Caribbean The Video Game (US) ,Lemmings (EU),LittleBigPlanet (US),Metal Gear Ac!d 2 (EU),Metal Gear Solid Peace Walker (EU) ,Metal Slug Anthology (EU) ,Metal Slug XX (AS),The Godfather (EU) ,The Simpsons Game (EU) .

Plateforme : PSP
Nombre : 34 jeux
Format : ISO
Langues : Français, Anglais,

Pour ceux qui le souhaitent, vous pouvez jouez à ces jeux via PPSSPP sur
Android, Windows, Linux, iOS, MacOSX  Par ici PPSSPP Gold Emulateur PSP Torrent Apk .
Télécharger PSP Jeux Pack Torrent
Serveur N° 2