Red Giant VFX Suite v1.0.2 Torrent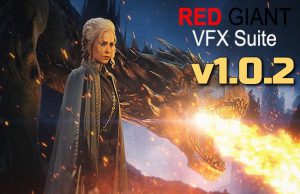 Red Giant VFX Suite v1.0.2 Torrent L'éditeur Red Giant a lancé VFX Suite, un pack de 9 outils destinés aux effets visuels sous After Effects et Premiere Pro.
Compositing, keying, tracking, suppression d'éléments, glow, effets variés sont au menu.
Infos :
Langue : Anglais
Taile Total : 736 MO
SUIVI ET NETTOYAGE
VFX Suite propose un suivi planaire précis et rapide à la lumière, directement dans After Effects. Plus besoin de sortir de la zone d'effet AE pour obtenir des résultats de suivi parfaits. Que ce soit pour l'affichage d'un panneau rectangulaire ou pour quelque chose de non rectangulaire, King Pin Tracker est là pour vous. Spot Clone Tracker est également inclus, un outil puissant pour éliminer rapidement les taches cutanées jusqu'aux objets indésirables de votre tir.
DISTORSION
VFX Suite facilite la création de superbes effets de déplacement prismatiques pour les effets visuels et les graphiques animés. Contrairement à l'effet de la carte de déplacement dans After Effects, le déplacement chromatique utilise l'image de déplacement comme carte de hauteur, ce qui vous permet d'obtenir de superbes résultats organiques: idéal pour créer des champs de force, des ondulations de chaleur, des réfractions de la lumière, des effets de camouflage, etc.
COMPOSITE
VFX Suite propose une boîte à outils puissante pour des composites à effets visuels réalistes dans After Effects. Avec Supercomp, les effets de lumière et d'atmosphère interagissent avec l'ensemble de vos calques et des éléments d'une scène d'une manière beaucoup plus naturelle que ce qui peut être modélisé avec un simple empilement de calques 2D. VFX Suite comprend également des outils permettant d'ajouter des ombres et des réflexions qui accélèrent certaines des tâches essentielles à la création d'un composite professionnel.
CHROMA KEY
VFX Suite vous offre une incrustation automatique et rapide de la chrominance. Que vous utilisiez un écran vert ou un écran bleu, Primatte Keyer peut régulièrement tirer une clé parfaite en un seul clic. Les outils de nettoyage de Primatte aident à transformer même les plans les plus difficiles en composites solides et professionnels. Améliorez encore plus vos résultats d'incrustation chromatique en combinant Primatte avec les outils post-incrustation de Supercomp.
VFX Supercomp -> After Effects
De même Optical Glow -> After Effects et Premiere Pro
VFX King Pin Tracker -> After Effects
Spot Clone Tracker -> After Effects
Chromatic Displacement -> After Effects et Premiere Pro
Knoll Light Factory -> After Effects et Premiere Pro
Primatte Keyer -> After Effects et Premiere Pro
Shadow -> After Effects
De même VFX Reflection -> After Effects
Compatibilité :
PC Compatible Windows 10 x64
1 GHz processor (multicore or multiprocessor CPU recommended for HD)
Video graphics card supporting OpenGL 3.3 or higher.
GPU Accelerated for Nvidia CUDA cards
1GB ou plus recommendé.
4GB RAM (8GB RAM recommendé).
Application Compatibles :
Adobe After Effects CC2018 / CC2019 x64
Adobe Premiere Pro CC2018 / CC2019 x64
Installation :
Coupez votre connexion internet
Installer "VFX Suite v1.0.2 Installer.exe" en tant qu'administrateur
(Click Droit -> Exécuter en tant qu'administrateur)
Terminez l'installation sans entrer aucune donnée d'enregistrement à la fin.
Il suffit juste de fermer.
Copier tous les fichiers du dossier "Patch" dans :
C:\Program Files\Adobe\Common\Plug-ins\7.0\MediaCore\Red Giant VFX\
Dire "OUI" pour remplacer les fichiers.
Ouvrir After Effects -> Effets -> RG VFX -> "Chromatic Displacement" -> "infos…"
et décocher "Send anonymous usage data to help improve the VFX suite."
Reconnecter internet
PS : Ne pas faire de mise à jour.