Windows 10 Pro X64 FR CA Torrent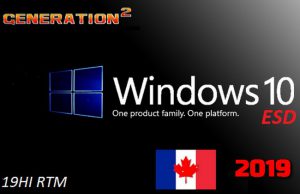 Windows 10 Pro X64 FR CA Torrent RTM OEM 3en1 ESD fr-CA SEP 2019
Version 1903 Build 18362.356 Info :
Fichier: W10X64.PROVL.fr-CA.SEP2019.iso
Taille: 3,77GB
Format: ISO amorçable
CRC32: b2e0cf23
MD5: aa23fb876e505fd5ff94d7ce03863fc0
SHA-1: 4855eb0f310e78299e027994821d4585793658cb
SOURCE
18362.30.190401-1528.19H1_RELEASE_SVC_REFRESH_CLIENTPROFESSIONALVL_VOL_X64FRE_FR-CA
CONTENU
Intégré / pré-installé:
Mise à jour de la pile de maintenance:
KB4515383
CumulativeUpdate:
KB4515384
Mise à jour cumulative pour
.NET Framework 3.5 et 4.8:
KB4514359
Mise à jour de sécurité de Flash Player:
KB4516115
SetupComplete / Post-installation:
.NET Framework 3.5
Mises à jour Defender
LANGUE: Français canadien
EDITIONS INCLUSES
Windows 10 Pro  STD Français canadien,Windows 10 Pro DLA Français canadien,Windows 10 Pro OEM Français canadien
STD = Installation standard – Pour ceux qui possèdent leur propre clé de licence
DLA = Activation de licence numérique
OEM – S'active automatiquement lors de l'installation
même version sur équipement d'origine
CARACTÉRISTIQUES
Prêt pour l'UEFI
(Utilisez l'outil USB Rufus ci-joint pour rendre UEFI amorçable)
Diagnostics and Recovery Toolset 10.0 (Microsoft DaRT)
install.wim compressé au format de récupération (install.esd)
INSTALLATION & INFORMATION
Créer une clé USB amorçable (hautement recommandé) avec Rufus,
(ci-joint) ou graver sur DVD-R à basse vitesse.
Microsoft publie plusieurs éditions de ses systèmes d'exploitation telles que Windows 10. Parfois, il peut être assez déroutant de vérifier quelle édition ou version correspond à nos besoins.
Dans cet article, nous allons parler des différentes éditions de Windows 10 et savoir quelles sont les éditions Pro, VL et N.
Win 10 Professional edition is mostly used in Office environments where joining a Windows Server domain is required. Windows 10 Pro comes with all the features of Windows 10 Home and features like Group Policy Management, Bitlocker encryption, Remote Desktop, Hyper-V, Azure Active Directory join ability, enterprise data protection, Windows Update for business etc.
CRÉDIT
WindowsAddict, auteur du script d'activation Windows
 J'espère que vous apprécierez cette version!
* Cordialement,
* Génération2